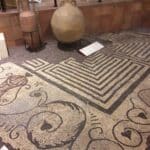 In English, pupils have been busy unpicking the language in the story 'The Greedy Fox' and have read for purpose in order to extract specific information to explain their own ideas. Pupils have also written character descriptions for the story's main protagonists and created their own alternative ending for the tale. They will look at innovating the story next by making substitutions and/or additions, before writing a new version.
In maths, year three children finished their scheme of work on position and direction by programming a set of instructions using the app Bee-Bot.  Most recently, children have been learning about fractions and dividing shapes into various equal parts.  Year two's have focussed on equivalent fractions, while year three's have added and subtracted fractions with the same denominator and compared unit fractions.
In art, pupils have made their clay pots in the Roman style and painted a scene/emblem reminiscent of this period.
In topic, children have learnt about why so many Romans enjoyed bathing as a leisure activity as well as a desire to get clean!  Pupils have investigated the different plunge pools and routines that Romans experienced in these magnificent baths.
In PSHE, children have continued to learn about the importance of keeping personal information private and why this applies when online too.  They have watched 'Hector's World' animations, which explores the importance of e – safety for children.
In Spanish, children have continued to learn and consolidate the vocabulary for the months of the year.
We had a successful day out at Caerleon where pupils were engaged with exploring the baths, amphitheatre, barracks and the Roman Legion Museum. Children learnt so much from seeing the remains of the amphitheatre and baths, while the museum's workshops enabled pupils to look at Roman artefacts and experience practical activities such as holding a banquet and dressing as a soldier.  We all had a great day!