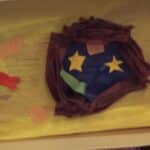 Class 1 have all been busy inventing stories based on the Bog Baby. They have talked and created their own story maps, which they will be using to write their stories.
As part of this in Science and Art the children have created their own environments and habitats for their creatures.
In Maths, the class have been looking at weights and measures and as part of this they have been comparing and finding the difference in the size of everyday objects, both inside and outside the class room.
The class are currently listening to different music created by using water sounds and with water as the theme.  They have considered the beat and tempo of the music, commenting on their feelings as they listen to each piece of music.